It's time to take another look at some of our fellow Denmates homework assignments.

There have been some challenging assignments this month but we Hufflepuffs have rose to the challenges and in doing so have raised the bar for crafting all around.

This week we're going to take a closer look at how high that bar has been raised in Herbology and Charms!
Herbology
Option 1: Explore bast fibers such as hemp. Bast fibers come from the inner bark of many types of plants, such as this list here. If you know of a bast fiber you wish to work with that is not on this list, simply ask the professors, providing proof of the fiber's origin. You may work in any Ravelry craft with fiber composed at least 50% from one or more bast fibers.
Option 2: Craft using the noble art of macrame. This will be the one exception to the Rav-crafts-only rule for this class. Some sample patterns may be found here.
broknmachin14
tackled working with sisal yarn made from the agave plant. Great job taking on this challenge!
Twirlymom
crafted this lovely scarf out of hemp. It looks fantastic.
Krazykt82000
Also stepped up and crocheted this rockin' bracelet out of hemp.
C

harms

Option 1: Knit/crochet/weave
Craft something you wouldn't normally make, completely out of your comfort zone whether it be a project type or the actual method of crafting or something you don't normally make or work with because of its difficulty, i.e., you don't like to use bulky yarn or you don't normally work with cables.
Option 2: Spinners, spindle and wheel
Spin some yarn out of a fiber you normally do not work with or in a color you don't normally gravitate towards or spin in a technique you don't normally use, i.e., long draw as opposed to your normal go-to of worsted spin or Turkish spindle as opposed to drop spindle.
Option 3 Dyers
Dye some yarn or fiber with a type of dye that you don't normally use or in a color that you don't normally gravitate towards.
HogwartsKnitting
crafted something she wouldn't normally make in this very lovely cabled scarf! You'd never know she frogged her first attempt at cables after a long hibernation and hasn't knit cables since by looking at how wonderful this turned out!
Kimanneberly
went completely outside her comfort zone with this too cute change purse!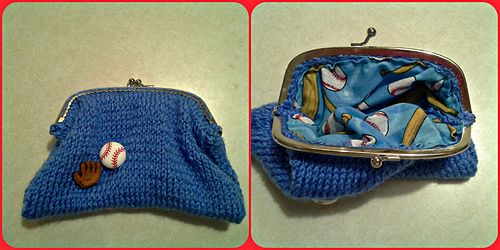 Texaninalaska
gave hand painting while dying her yarn a go for this homework assignment.

I'd say she got it right! What about you?
As we approach the end of the first month of this term, join me next week for a few highlights to round out May assignments!