Life is crazy in the Common Room, and so here we are, back to present TWO recipes in this installment :-D
Summertime means burgers! The House Elves couldn't be more excited! So, for your next burger, why not try something a little different, and a whole lotta tasty?
Lilleduck
was so kind to share this little gem with a House Elf named Dink and now we get to share it with all of you.
Do you have a tried and true burger recipe? A summertime favorite? Let the
House Elf Liaison
know!
Salmonburgers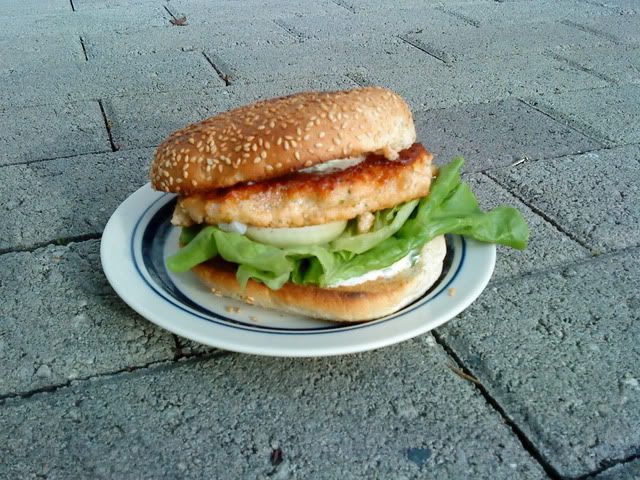 600 grams (approx 1 1/4 lbs) skinless, boneless salmon fillet
2 ½ teaspoons salt
2 tablespoons potato flour (this is similar to instant mashed potato flakes) or you could possibly use corn flour
¼ teaspoon white pepper
2 teaspoons parsley
2 teaspoons chives
3 teaspoons onion
1 ¼ dl (approx 1/2 cup) double cream (in the US sub heavy cream)
Butter or oil to fry in.
Put everything except the salmon and cream in a food processor and run it in intervals until it is chopped fine. Add the salmon and cream and pulse it until you get the consistency that you want. I like it to be a little chunky but you could make it smooth if you like that better. Form 6-8 burgers and fry them.
Make your burgers with the burger bread you like and salads and dressings. I use green salad and onions and crème fraiche dressing. The kids just put ketchup on everything…
Crème fraiche dressing
3 dl (1 1/4 cups) crème fraiche
Juice squeezed from 1/2 lemon
2 tablespoons chives
2 tablespoons parsley
2 tablespoons sugar
Mix it all and serve.
And as a refreshing drink, try
Lettuceleaf's No Recipe Breakfast Smoothie
!
This recipe is great because there is no measuring, or specific ingredients - you just use what you have on hand.
First you set up your blender.
Start with some juice
Add 2 fruits (banana is encouraged as one of your two fruits, and our intrepid Blog Assistant to the House Elf Liaison has discovered over the years, frozen banana adds a lovely frothiness to a smoothy)
Finish with a carton of yogurt, or some milk, or even ice cream
(Another assistant addendum is to throw in a scoop of protein powder. I loves me my smoothies ;-D)
Blend, pour, enjoy!
Thank you, ladies, for getting in touch with our House Elves and sharing your lovely recipes!
Enjoy! :-D